CES 2011: Samsung showcases Wintel-based tablet PC
Yen-Shyang Hwang, Las Vegas; Joseph Tsai, DIGITIMES
Samsung Electronics is showcasing its new tablet PC, the 7 Series sliding PC, featuring Intel's Atom processor (Oak Trail) and Windows 7, at Consumer Electronics Show (CES) 2011.
The device has a thickness of less than 1-inch and a keyboard appears with a sample slide of the panel. The 7 Series tablet PC is set to launch in the first quarter of 2011 with a price of US$599-799 depending on storage specifications.
Since the 7 Series is a product based on x86, the development of the device is handled by Samsung's notebook division.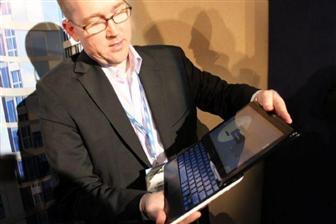 Samsung 7 Series tablet PC
Photo: Yen-Shyang Hwang, Digitimes, January 2011