CES 2011: DLP Pico technology lights up new, on-the-go possibilities
Press release, January 6; Yvonne Yu, DIGITIMES
Thursday 6 January 2011
Texas Instruments (TI) DLP Products has announced that more than 30 DLP Pico-enabled products, covering a wide variety of useful and unique form factors, will be on display by the world's leading manufacturers at the 2011 International Consumer Electronics Show (CES). From iPhone/iPod/iPad and other mobile device docks that bring instant, big-screen viewing to any room, to camcorders, cameras, and cell phones that allow friends and family to immediately enjoy photos and videos at once, products with DLP Pico technology continue to redefine mobile entertainment and enterprise solutions.
Building on DLP's foundation of projecting the brightest images in the world for digital cinema, DLP Pico chips have the same technology genetics, allowing consumers to virtually have a movie theater in the palm of their hand, the vendor said. Pico-enabled devices are already being used to watch saved and online streaming videos, play games, project business presentations and files, and do much more, all with the convenience of being truly mobile.
"Consumer demand continues to grow for mobile big picture experiences - giving them the ability to share content anywhere, anytime - so it's really exciting to see where our partner brands and manufacturers are taking DLP Pico technology," said Frank Moizio, DLP pico projection business manager. "Since the launch of pico technology in 2008 with the first-ever DLP Pico chip, to our brand new HD chipset announced here at CES 2011, the number of products and choices available to consumers has grown immensely, with the future looking even brighter."
A full collection of more than 20 leading and emerging brands will be at CES 2011 showcasing their latest products with DLP Pico technology inside:
• Acer
• Adayo
• Aiptek
• BenQ
• Brightboxe
• Cinepic
• Cirago
• CoStar
• Dell
• Fujitsu Mobile
• GE
• HP
• Hite
• iGo
• Kaga
• Megapower
• LG
• NTT DOCOMO
• Optoma
• Sharp
• Samsung
• ViewSonic
• WowWee
The entire DLP Pico family of chips offers solutions for creating an ever-growing array of product applications, including embedded cell phones, cameras, and camcorders, mobile projectors for consumer entertainment, notebook companions for mobile warriors, toys, AV docks for iPhones, iPads, iPods and other devices, and more. The company's CES 2011 events:
• Pepcom's Digital Experience! – Wed. January 5, 7pm PT (Caesars Palace)
• DLP Pico demo suite – January 6–7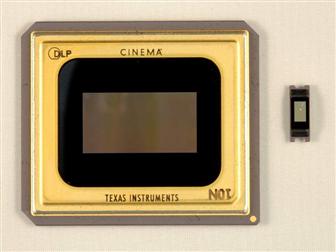 TI Cinema chip with DLP Pico chip
Photo: Company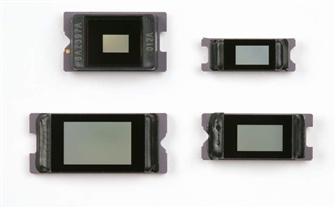 TI showcasing DLP Pico family products at CES 2011
Photo: Company