AUO showcasing latest display technologies at FPD International 2010 in Japan
Press release, staff reporter, DIGITIMES, Taipei
Wednesday 10 November 2010
AU Optronics Corp ("AUO" or the "Company") (TAIEX: 2409; NYSE: AUO) has announced that it will present its latest display technologies at FPD International 2010 in Japan from November 10-12. The exhibits will include the world's largest 71" 21:9 Cinema Scope HD (CSHD) 3D TV LCD panel, a 32" in-cell multi-point and multi-color optical touch panel for e-board applications, flexible oxide TFT E-paper, a dual-side display that uses ultra-low levels of energy and saves power by 99.8%, a 3D AMOLED TV panel, and stylishly flat OLED lights. The innovative designs and breakthroughs to be demonstrated are stereoscopic, fascinating, trendy and fun with a wide range of applications for personal life, home theaters and commercial spaces. Paul Peng, AUO's executive vice president, will deliver a speech titled "Opportunities for the Taiwan TFT-LCD Industry" on the morning of November 11 (Thursday) at the special seminar.
The theme of this year's show is "innovative technologies." Consumers are encouraged to practice low-carbon lifestyles while enjoying a totally new audio-visual experience. The exhibition area is divided into six sections: 1) 3D Display Technologies and Applications; 2) Advanced TV Display Technologies; 3) Multi-touch Display Technologies; 4) Green and Energy-saving Electronic Displays; 5) Advanced Mobile Display Technologies; and 6) New Technological Applications with E-paper, E-tags, AMOLED and flat OLED lighting.
3D Display Technologies and Applications - The World's Largest CSHD TV LCD Panel
In response to the rapid growth of the 3D content market, AUO has developed numerous advanced 3D display technologies, including: the world's largest 71" 21:9 CSHD 3D TV LCD panel; a 65" QFHD 4K2K lenticular lens 3D panel; a 65" pattern retarder 3D LCD TV panel with video game applications; deadzone-free 15.6" notebook panels and deadzone-free 10.1" tablet PC naked eye 3D panels; and a 4" 3D interactive touch panel for smartphones.
Multi-touch Display Technologies - The First In-cell Multi-color Optical Touch Panel for E-board Applications
AUO is extending its touch panel technology to E-board development by introducing the industry's first 32" in-cell touch panel with an optical color pen function. The optical color pens can be used at the same time, and by mixing red, green and blue, seven colors can be produced. Users can save the image or print it out, which is very convenient for teaching or taking meeting minutes. In terms of panels with ten touch points, AUO is presenting the 24" energy-saving touch panel and the 10" on-cell touch panel which will allow users of desktop, tablet and notebook PCs to move their fingers freely about on the touch panels. Utilizing a one-glass solution, the 7" and 5" touch panels are 60% slimmer and lighter than conventional touch panels, consume 10% less power, and boast better penetration and brightness. These small, sturdy panels are the finest green displays available.
Green and Energy-saving Electronic Display Technologies - The First Ultra-slim 21.5" Displayport Monitor with Wide Viewing Angles
To meet the demand for eco-friendly products, AUO will exhibit the world's first(*) 14" solar-powered touch keyboard notebook solution as well as the industry's first ultra-slim 21.5" Displayport monitor with wide viewing angles. The DVI and LVDS digital interfaces can be replaced by the Displayport interface with fewer parts while retaining digital video performance of the same high quality. The low-power monitor, with all-in-one minimal design, is the ideal next-generation display for a low-carbon lifestyle.
E-paper and E-tags - High Efficiency 6" Flexible Oxide TFT E-paper
AUO's 6" Flexible Oxide TFT E-paper is made pliable with high efficiency parts and plastic material (PEN). Users can place the E-paper into their briefcases or purses without having to worry about damaging it. The image resolution has now reached 800x600. In addition, the low-power re-usable portable E-tags, ranging in size from 2" to 6", significantly reduce costs for chain stores.
Advanced Mobile Display Technologies - New Dual-side Display Delivers Energy Savings of 99.8%
As an answer to the problem of energy-hungry smartphones, AUO will present a new design-the 3.2" dual-side, ultra-low-power MIP display. The main display is for high resolution images, while the information display on the reverse side can be used without backlighting to read e-mail and text, to save information, and to download pictures for decorating the cell phone shell. The design lowers power consumption from 420mW to 1mW-a 99.8% savings. Its 230 PPI high resolution presents images with impressive clarity and brightness.
OLED Technologies - AMOLED 3D TV Panels, Flat OLED Lighting with 50 Lumen/Watt Efficacy
AUO's 14" AMOLED 3D pattern retarder TV panel is an advanced OLED technology that delivers stunning 3D images with its fast response, high contrast ratio and wide viewing angles. A resolution of 1920x1080 is retained even while switching back and forth between 3D and 2D modes.
AUO has also been working for the first time on flat OLED lighting. At FPD International 2010, the Company will be showcasing its sleek new high-efficiency flat lighting. Operating at 50 lumen/watt, the device comes with an embedded high-efficiency green power drive. Stylish as well as efficient, AUO's flat lighting is an ideal choice for attractive illumination.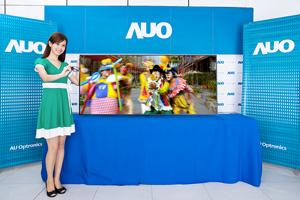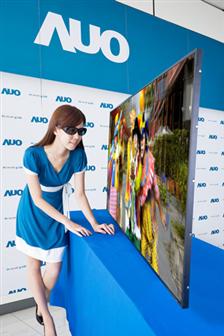 AUO 71-inch 21:9 Cinema Scope HD (CSHD) 3D TV LCD panel with high quality 3D images
Photo: Company