Global LED production value to hit US$20 billion in 2013, says new report from Digitimes Research
Press release, DIGITIMES, Taipei
Taipei, Taiwan, October 21, 2010 - LED production value is projected to reach US$8.25 billion in 2010, up 55.6% from a year ago on the rapid growth of the LED TV segment. LED TV shipments in 2010 are estimated to increase 10-fold on year from 2009 to 37.20 million units, according to a recent DIGITIMES Research Special Report titled "LED: TV and lighting overview."
From 2011 to 2013, global LED production value will rise by at least 25% every year and surpass US$20 billion.
By application, portable devices have been the mainstream in the high brightness LED market, accounting for 36% of the market in 2009. However, in 2010, due to a significant rise in LED TV demand, large-size LED backlight units (BLUs) will account for a 28% share, surpassing portable devices for the first time.
"Between 2011-2013, large-size LED BLUs will continue to represent the largest segment of the market, topping 41% in 2013," said Digitimes Research analyst Jessie Lin, who is author of the LED report. "In addition to the rise of LED TV applications, LED lighting will begin to replace conventional lighting technology in the market. LED lighting will grab more than 10% of the market starting in 2012 and quickly move up to 16% in 2013."
However, while LED lighting's luminous efficiency is currently comparable to that of fluorescent lamps, LED lamps remain unpopular mainly because of their high costs. Obviously, high costs make it difficult to adopt LED lighting unless governments offer subsidies or consumers realize that total costs for LED lighting may not be higher if its power savings, longer service life, lower carbon emissions and other advantages are taken into consideration.
The DIGITIMES Research Special Report provides an extensive overview of the high-brightness LED market, including a breakdown of the LED TV supply chain in Taiwan, Korea, Japan and China, an overview of government LED lighting policies by region, and a timeline for the transition to LEDs in the global lighting market.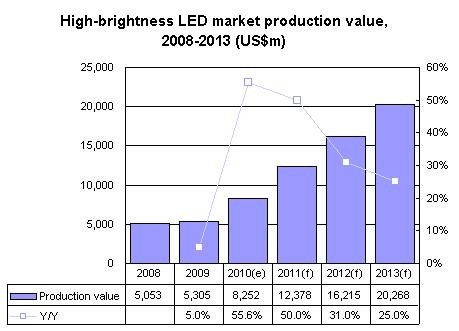 Source: Digitimes Research, October 2010
For more information about the report
About DIGITIMES Research
DIGITIMES Research is the research arm of DIGITIMES Inc., Taiwan's leading high-tech media outlet. Operating as an independent business unit, DIGITIMES Research focuses on monitoring key high-tech industries, while also guiding clients toward suitable new business as well. Market intelligence and analysis is provided to more than 1,000 corporate customers worldwide. Research and consulting services cover a full range of industries, including information and communications technology (ICT), flat panel display (FPD), renewable energy and semiconductor design and manufacturing.
Contacts
Michael McManus (Michael.mcmanus@digitimes.com)
Sylvia Wu (Sylvia.wu@digitmes.com)