Nvidia announces GeForce GTS 450 for US$129
Press release, September 13; Joseph Tsai, DIGITIMES
Tuesday 14 September 2010
Nvidia has announced the latest addition to its Fermi-class of graphics processing units (GPUs), the Nvidia GeForce GTS 450 -- which was designed to deliver strong DirectX11 price/performance in the US$129 price category.
For games and applications that feature tessellation -- the key feature of DirectX 11 -- the GTS 450 is up to 65% faster than the closest competitive product, Nvidia stated. Even in previous generation DirectX 9 and 10 games, the GTS 450 is faster by over 30%, Nvidia added.
With full support for Nvidia 3D Vision technology, the GeForce GTS 450 also provides the graphics horsepower and video bandwidth needed to experience games and high definition Blu-ray movies in stereoscopic 3D. And with Nvidia SLI technology, gamers can add a second GTS 450 to their PC.
The GeForce GTS 450 is available from the company's add-in card partners, including ASL, Asustek Computer, Colorful, Elitegroup Computer System, EVGA, Gainward, Galaxy, Gigabyte Technology, Innovision 3D, Jetway, KFA2, Leadtek, Micro-Star International, Palit, Point of View, PNY, Sparkle, Zotac and others.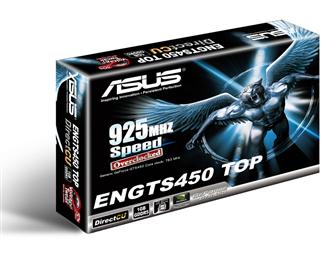 Asustek ENGTS450 TOP graphics card
Photo: Company