BitFenix introduces Colossus E-ATX case
Press release, Taipei
BitFenix, a Taiwan-based startup which aims to develop hardware and peripherals specifically targeting PC gamers, has launched its first product, a full tower E-ATX PC chassis dubbed the Colossus.
"With Colossus, we focused on how gamers and PC enthusiasts were interacting with their computers on a daily basis, and crafted a PC chassis that actually helps to enhance their computing experience," said David Jarlestedt, BitFenix Product Manager. "What we've been able to do is create a case that not only looks striking, but delivers novel features that truly benefit the user in terms of security, control, and performance."
Colossus is available in Monolith Black or Glacier White and combines an aggressive futuristic design with clean modern lines, according to the company. Its top and front surfaces are coated with proprietary BitFenix SofTouch coating, which not only provides aesthetic appeal, but protects the surface from stains. The LED lighting system adorning the front door and side panels provide even lighting, and can be switched between red or blue with the touch of a button. The lighting also has three selectable modes: on, pulse, and off, giving users control over the ambiance of their computing environment.
Located at the very top of the chassis is the BitFenix S3TM, a combination storage and security system in one. With S3, users can place their mobile phone, hard disk, USB drives, or other valuables inside and easily lock them away for safe keeping. Inside S3, users will find two SuperSpeed USB 3.0 ports ready to connect to an ever-growing ecosystem of USB 3.0 devices.
Colossus also features a PWM fan controller that grants users more precise control over their fan speeds without the need for proprietary fans, and is the first chassis to feature both internal and external cable management, BitFenix claimed. Users can keep cables from cluttering the inside of the chassis with Colossus' strategically-placed cable holes, and prevent cables from getting caught in ejecting optical drives with the unique cable-routing front bezel. Colossus' front door can be easily switched to open to the left or to the right, depending on user preference.
Colossus is designed to accommodate the latest gaming hardware offering eight PCI slots and enough room to fit up to seven 2.5-inch SSDs or seven 3.5-inch hard disks. To keep all of this hardware cool, Colossus can be outfitted with up to two 230mm fans, three 140mm fans, or three 120mm fans. All air intakes are equipped with dust filters to make clean up quick and easy, and with friendly features like a motherboard CPU cooler cutout on the motherboard tray, specially-designed motherboard standoffs, and an almost completely tool-free design, Colossus is easy to set up, the company highlighted.
Bundled with Colossus is the BitFenix Lockdown, a hardware stabilizer that helps prevent accidental damage to graphics cards due to excessive vibrations during system transport.
BitFenix Colossus will be available on retail shelves mid-September 2010 with an estimated retail price of 159 euro or US$169.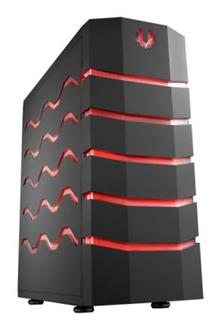 BitFenix Colossus
Photo: Company