Computex 2010: PNY turns USB flash drive into fashion accessory with Magic Bean
Press release, staff reporter, DIGITIMES, Taipei
Thursday 3 June 2010
PNY Technologies, a leader in storage and multimedia products, is showcasing its latest USB drive model at Computex Taipei 2010, the cute and attractive PNY Magic Bean, which is currently available on the market.
The company explained that the product's design comes from the Jack and the Beanstalk fairy tale. The stylish bean shaped USB drive can be used for consumers looking to store images and media files, and the device can be carried using its cute leaf strap. The Magic Bean is targeted to young users and creative consumers, and thus comes in an assortment of bright and vivid colors.
The company has also developed a clever marketing strategy of coupling the different storage capacities with various colors and what the PNY call different magical blessings. Yellow represents Luck and has a 2GB capacity; green represents Wisdom and has 4GB of storage; blue comes in 8GB and represents Wealth, and so on, with Beauty and Love representing 16GB and 32GB capacities.
The glossy and warm look of the Magic Bean USB drive makes it an eye-catching fashion accessory when strapped to cell phones, bag or key chain and makes for a great gift idea the company stated.
PNY will be featuring the Magic Bean drive, as well as other products at the Computex Taipei 2010 show, Nangang Exhibition Center, I1318~I1417.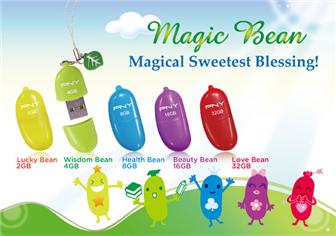 PNY Magic Bean USB drives
Photo: Company