Kingston Technology adds entry-level memory products to HyperX Lineup
Press release, staff reporter, DIGITIMES, Taipei
Tuesday 1 June 2010
Kingston Technology, the global leader in memory module products, has announced the release of an entry-level line of HyperX memory modules for overclockers and gamers. The HyperX blu memory modules have a new look, run at standard JEDEC speeds and timings, and have headroom for enthusiasts to push the performance envelope.
"The enthusiast community knows the HyperX name is synonymous with high speed, high quality and stylish design. HyperX blu enables us to bring these features to market at a lower price point," said Ann Bai, DRAM Memory sales director, APAC Region, Kingston.
HyperX blu is available in DDR3, 1600MHz- and 1333MHz 4GB- and 2GB kits of two. This series is also available in DDR2 800MHz, single modules and kits of two. Kingston HyperX memory is backed by a lifetime warranty and free technical support.
This year Kingston will not be attending the Computex Taipei 2010 show, but users can find detailed information about the new products on the Kingston Web site. Users can also provide feedback on the Kingston Blog or challenged their knowledge playing the "Challenge Your Memory" game.
Kingston HyperX blu DDR3 & DDR2 specifications

Part Number

Capacity and Features

KHX1600C9D3B1K2/4GX

4GB 1600MHz (CL9-9-9-27 @ 1.65V)
kit of 2 optimized for XMP

KHX1600C9D3B1K2/4G

4GB 1600MHz (CL9-9-9-27 @ 1.7V)
kit of 2

KHX1600C9D3B1K2/2G

2GB 1600MHz (CL9-9-9-27 @ 1.7V)
kit of 2

KHX1333C7D3B1K2/4GX

4GB 1333MHz (CL7-7-7-20 @ 1.65V)
kit of 2 optimized for XMP

KHX1333C7D3B1K2/4G

4GB 1333MHz (CL7-7-7-20 @ 1.7V)
kit of 2

KHX1333C7D3B1K2/2G

2GB 1333MHz (CL7-7-7-20 @ 1.7V)
kit of 2

KHX6400D2B1K2/4G

4GB 800MHz (CL5-5-5-15 @ 1.8V)
kit of 2

KHX6400D2B1K2/2G

2GB 800MHz (CL5-5-5-15 @ 1.8V)
kit of 2

KHX6400D2B1/2G

2GB 800MHz (CL5-5-5-15 @ 1.8V)
module

KHX6400D2B1/1G

1GB 800MHz (CL5-5-5-15 @ 1.8V)
module
Source: Company, compiled by Digitimes, June 2010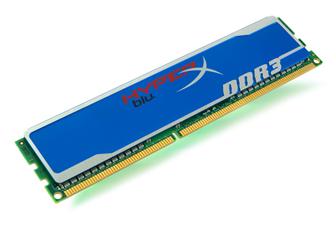 Kingston HyperX blu memory modules
Photo: Company