Kingmax extends battery life for iPhone
Press release, Staff reporter, DIGITIMES
Monday 8 March 2010
Leading memory module brand Kingmax has launched its extended rechargeable battery case series, which is iPhone certified for Apple's iPhone 3G and 3GS devices. The new series is an extension of the Kingmax handset-accessory product line.
The new Kingmax battery extender is a non-slip grip protective case, measuring 12.45×6.60×2.29cm (LxWxH) and weighs 70 grams. The portable battery case includes a 1500mAh lithium-polymer battery, which uses Japan-made battery cells to guarantee reliability and safety.
With the built-in rechargeable battery, the Kingmax iPhone-use battery case powers the device for up to 270 hours standby. It also has an integrated LED indicator, which shows the charging status.
Kingmax said it has already launched the iPhone-use rechargeable battery case series in Europe, Southeast Asia and Taiwan. It will be available in other parts of the world at a later date.
In addition, Kingmax revealed plans to offer battery products for other leading smartphone brands including Blackberry, HTC, Samsung and Nokia. The company has tapped the handset battery market, introducing lithium (LiON) batteries that support Nokia- and Sony Ericsson-branded handsets.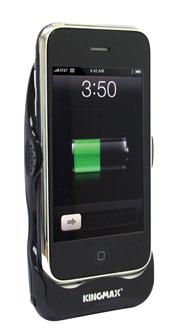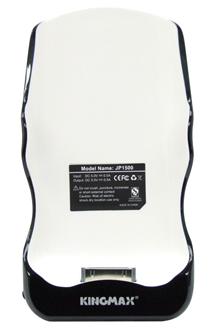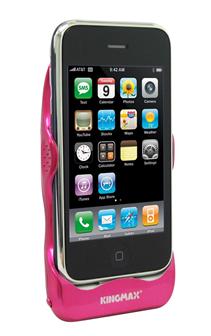 Kingmax iPhone power case
Photo: Company