CeBIT 2010: MSI showcases three new gaming notebooks
Press release, March 2; Joseph Tsai, DIGITIMES
Tuesday 2 March 2010
Micro-Star International (MSI) is showcasing the latest members of MSI G-series notebooks, the GX640, GX740 and GT660, at CeBIT 2010.
The GX640 and GX740 boast Intel Core i5 processors with AMD's ATI Radeon HD 5870 and HD 5850 discrete graphics cards, respectively. Both notebooks feature 1GB GDDR5 VRAM on the graphics cards and SRS Premium Sound for audio output.
The GX740 adopts a 17-inch LCD panel, and the GX640 a 15.4-inch. Both notebooks feature MSI's ECO Engine Power Saving Technology as well as Cinema Pro Technology for enhanced performance.
The GX640 and GX740 are covered by an aluminum magnesium alloy chassis and have a keyboard designed specifically for gamers.
The GT660 gaming notebook has an Intel Core i7 processor with Nvidia GeForce GTX 285M (1GB GDDR3 memory) discrete graphics card.
MSI GX640 notebook specifications

Item

Detail

OS

Windows 7 Home Premium

CPU

Intel Core i5 processor

Chipset

Intel HM55

Graphics

ATI Radeon HD 5850 with 1GB GDDR5 VRAM

Memory

DDR3 memory supports up to 8GB

Display

15.4-inch TFT LCD

HDD

2.5-inch 320/500/640GB SATA
Source: Company, compiled by Digitimes, March 2010
MSI GX740 notebook specifications

Item

Detail

OS

Windows 7 Home Premium

CPU

Intel Core i5 processor

Chipset

Intel HM55

Graphics

ATI Radeon HD5870 with 1GB GDDR5 VRAM

Memory

DDR3 memory supports up to 8GB

Display

17-inch TFT LCD

HDD

2.5-inch 320/500/640GB SATA
Source: Company, compiled by Digitimes, March 2010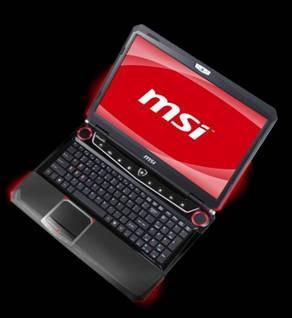 MSI GT660 gaming notebook
Photo: Company