VIA announces new digital media chipset for Windows 7
Press release, December 14; Joseph Tsai, DIGITIMES
Monday 14 December 2009
VIA Technologies has announced the VIA VN1000 digital media chipset for next generation desktop and all-in-one PCs, offering a high definition (HD) multimedia entertainment platform compatible with the advanced desktop features of Microsoft Windows 7.
The VIA VN1000 digital media chipset features the ChromotionHD 2.0 video processor to guarantee smooth playback of the latest Blu-ray titles with hardware acceleration of the most demanding H.264, WM9 and VC1 codecs over the latest display technologies, including Display Port and HDMI.
Paired with the new VIA VT8261 southbridge, the VIA VN1000 chipset consumes only up to 12W, making it an excellent choice for Windows 7-based mini desktop and all-in-one desktop PCs designs, according to VIA.
Offering feature-rich specifications with significant emphasis on graphics and HD video playback, the VIA VN1000 features the VIA Chrome 520 IGP, combining a DirectX 10.1 graphics engine, with support for Shader Model 4, OpenGL 3.0 graphics and OpenCL 1.0 for next-generation GPGPU applications.
The VIA VN1000 supports DDR3 system memory at speeds of up to 1066MHz, one x8 lane and four x1 lane PCI Express 2 expansion slots, up to five PCI slots and a VIA Vinyl HD 8 channel audio codec. An IDE controller, supports up to four SATA drives, SD/MMS/MMC card reader support and 12 USB 2.0 ports are supplemented with support for PS/2, SPI, GPIO and LPC technologies, VIA highlighted.
The VIA VN1000 digital media IGP chipset is fully compatible with VIA Nano, VIA C7, VIA C7-M and VIA Eden processors and supports all Microsoft Windows platforms and popular Linux distributions.
VIA VN1000 chipset specifications

Item

Detail

Processor support

VIA Nano, VIA C7, C7-D and Eden (V4) processors

VIA V4 bus

400/800MHz

Memory support

DDR2 677/800 and DDR3 800/1066

Max memory

16GB

PCI Express

One 8-lane, four 1-lane

Northbridge/southbridge link

Ultra V-Link (1GB/s)

Graphics

VIA Chrome 520 IGP

DirectX support

DirectX 10.1

Video acceleration

H.264, WMV, MPEG-2, MPEG-4
Source: Company, compiled by Digitimes, December 2009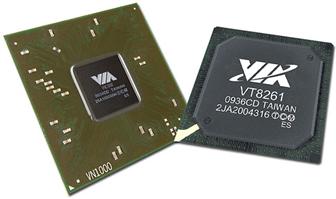 VIA VN1000 chipset and VT8261 southbridge chipset
Photo: Company