Gateway debuts new notebooks and a netbook
Press release, June 26; Joseph Tsai, DIGITIMES
Friday 26 June 2009
Gateway has debuted its new NV series entertainment notebooks that pair the latest notebook technologies and one-touch buttons at an affordable price as well as its new AMD-based 11.6-inch netbook.
The Gateway NV series features a 15.6-inch 16:9 aspect ratio high definition LED-backlit display, Dolby Sound Room technology to complement the video with surround sound and HDMI port to deliver visual and audio to an external LCD.
The series also features functions including MyBackup Button, a one-touch way to backup files and information, and PowerSave Button, which can prolong battery life, available on selected models.
The Gateway NV series adopt either CPUs from Intel or AMD and up to 4GB of memory.
Gateway has also introduced the Gateway LT3100 netbook, featuring an 11.6-inch display and AMD Athlon Processor. The netbook weights 3.14-pound and measures about an inch thick.
The Gateway LT3100 netbook also features the ATI Radeon X1270 GPU, up to 2GB of DDR2 memory, and up to 250GB of storage.
Gateway new notebooks and netbook specifications

Model

NV5214u

NV5807u

LT3103u

CPU

AMD Athlon 64 X2 QL-64

Intel Core 2 Duo T6500

Single-core AMD Athlon 64 L110

Panel

15.6-inch HD Ultrabright LED-backlit display

15.6-inch HD Ultrabright LED-backlit display

11.6-inch WXGA High Definition LED back-lit display

Memory

4GB dual-channel DDR2 memory

4GB dual-channel DDR2 memory

2GB single-channel DDR2memory

GPU

ATI Radeon HD 3200

Intel GMA 4500MHD

Integrated ATI Radeon X1270

Chipset

AMD RS780MN

Intel GM45 Express

AMD RS690E

Price

US$499.99

US$599.99

US$399.99
Source: Company, compiled by Digitimes, June 2009

Gateway NV series notebooks
Photo: Business Wire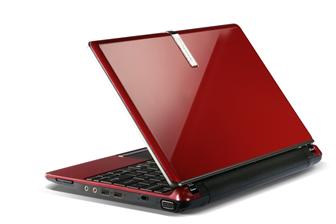 Gateway LT3103u netbook
Photo: Business Wire