Gateway announces new desktop PCs for back-to-school demand
Press release, June 25; Joseph Tsai, DIGITIMES
Gateway has introduced a new range of back-to-school desktop PCs featuring technologies ideal for productivity, entertainment and digital photography.
The first model available in the SX series is the US$499.99 Gateway SX2800-01, which offers an Intel Core 2 Quad 8200 processor coupled with up to 4GB of memory and integrated Intel GPU.
The new Gateway SX2800-01 will be available at the end of June 2009.
Gateway's new DX series models offer a choice of AMD or Intel dual-core or quad-core processors, up to 8GB of memory and discrete graphics cards from either AMD or Nvidia.
The new Gateway DX series of mini-tower PCs will also be available at the end of June.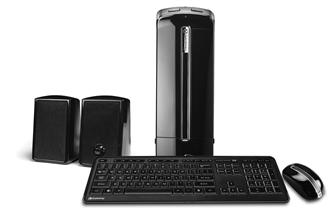 Gateway SFF SX series desktop PC
Photo: Business Wire