Computex 2009: Genius brings Windows 7 support to peripherals
Yvonne Yu, DIGITIMES, Taipei
Thursday 4 June 2009
Taiwan-based peripheral specialist KYE Systems markets its own product line under the Genius brand, in addition to fulfilling OEM/ODM orders for international vendors. Most of the products marketed on the Genius brand are peripherals and accessories for PC and consumer electronic (CE) devices, and the company also offers full CE systems as well.
Genius has products in over 85 countries and works with top channel players worldwide. Unlike vendors who have just started to notice the market potential of emerging markets, Genius has concentrated on such markets over the past decade and will continue to develop its business in emerging markets, Paishan Lee, KYE OBM business unit VP recently told Digitimes.
Genius is already doing well in the former Soviet Union and is now looking to improve its business in China, India, Indonesia, Turkey, Brazil, and Mexico. Lee stated the company's advantage is that it is constantly looking for new ideas to develop better and diverse products for users and delivering quality products at a stable price.
This year at Computex Taipei, Genius (Hall 1, B415) will be showcasing products that work with the upcoming Microsoft Windows 7 platform. Genius noted that its goal at this year's show is to show how enterprises and consumers can use Genius accessories in a Windows environment to make daily tasks more efficient.
Genius started to develop products that support Windows 7 system as early as 2008 and all Genius products will be able to support Windows 7 systems out of the box, which means no driver-installation is required, Lee said. Lee added that for netbook peripherals, all products were designed around the three basic ideas of being small, lightweight and easily portable.
Mouse
The company's Bluetooth Navigator 905BT Bluetooth mouse, for example, has a special design so users can attach it to netbooks, allowing mobile users to free themselves from USB. The device features Bluetooth 2.0 with EDR (enhanced data rate) to deliver a working range of up to 10 meters. Genius also significantly reduced the size of the Bluetooth receiver, which allows users to travel without unplugging the receiver from the netbook, Lee said. The Navigator 905BT also features Flying Scroll technology for multiple-direction scrolling. Genius will also showcase its Micro Traveler 300 ultra-portable mouse, which is slim enough to slip into a notebook bag and is also targeted for netbook applications.
Audio
In addition to portable mice, Genius is showcasing its SP-i205U USB speakers for mini notebooks. The speakers are lightweight and portable, feature three-stand adjustment and are built around an advanced class D amplifier for power efficiency advantages.
Other speaker products include the new Genius SP-HF1800A hi-fi speakers, rated to handle 50 watts RMS. The system features two four-inch speakers and one tweeter. The three-way design uses crossover technology that makes the three speaker units respond separately for high, middle and low frequencies.
A small and compact GHP-i200 in-ear headset that can be used with the iPhone, and the GHP-205 sports in-ear headphone with ear-hooks will also be part of the company's audio lineup for the Computex show.
Video and entertainment
In order to support Windows 7's H.264 decoding capabilities, Genius has developed a series of megapixel webcams that support high definition (1280×720) video, Lee indicated. New webcams also feature auto-focus functionality, and a special fold-up design for mobile users. The Genius eFace2050AF webcam has a 2-megapixel image sensor and is targeted for VoIP applications, while the eFace 1300 has a 1.3-megapixel image sensor and 360 degree swivel.
Power of touch
With touch-panel applications becoming more popular, Genius has designed touch functionality and hand control into a number of products. The Genius G-Shot HD550T 5-megapixel HD camcorder has a three-inch touch panel. The device features 720p video and can output content to a HD flat-panel TV using an HDMI cable. The LuxeMateT830 multimedia keyboard has a touch control panel and slider bar for instant access to commonly used software applications.
Genius also has its EasyPen i405, which is a thin cordless pen for using on the Windows and Mac platform. It allows users to write, draw, sketch or sign emails. Genius also has a new design tool (MousePen i608) for drawing and painting.
Visitors to the Genius booth can also see speaker, tablet, and mouse products featuring touch functionality, as well as a host of other keyboard, mouse, and wireless applications.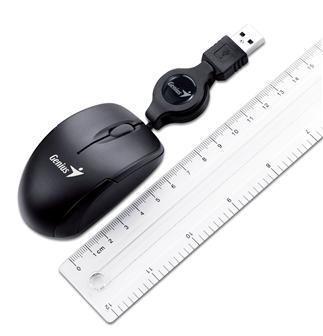 Genius Micro Traveler
Photo: Company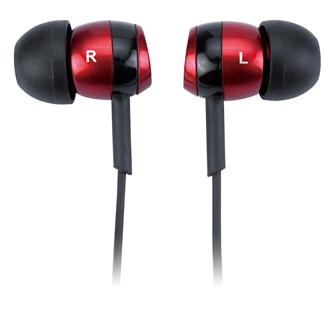 Genius GHP-i200
Photo: Company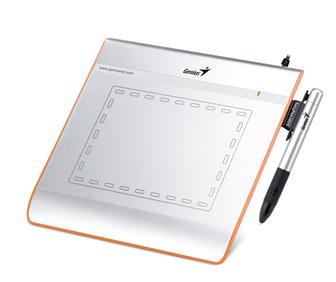 Genius EasyPen i450
Photo: Company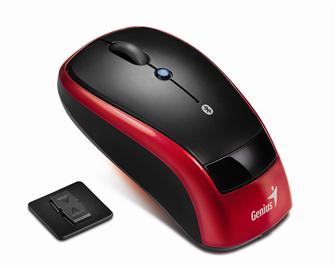 Genius Navigator 905BT
Photo: Company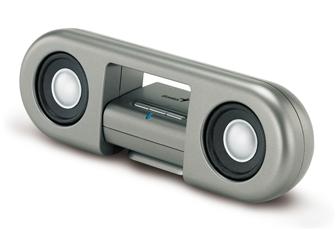 Genius i205
Photo: Company