Computex 2009: Nanya launches Elixir DDR3 for gaming market
Press release; Jessie Shen, DIGITIMES
Nanya Technology has introduced Elixir DDR3 1600 XMP (Extreme Memory Profiles), a gaming memory module of its retail product line. The memory chipmaker is performing live demonstration at the ongoing Computex 2009 show, through joint promotion with motherboard makers Gigabyte Technology and Electronic Arts (EA).
Nanya's Elixir DDR3 1600 gaming memory module delivers data transfer rates up to 1600Mbps, doubling today's DDR2 memory, and operates at 1.5 volts (versus 1.8V for DDR2). The Elixir DDR3 supports Intel XMP, which delivers over-clocking performance in the Intel Core i7 CPU- and Intel X58 Express chipset-based desktop boards.
The DDR3 will become a mainstream very soon, said Pei-Lin Pai, vice president of Global Sales & Marketing and spokesman of Nanya. Nanya said it is on track to migrate to 68nm/50nm stack technology to increase DDR3 market share.
Currently, DDR3 accounts for 20% of the combined production at Nanya and Inotera Memories, according to Pei. The proportion is expected to exceed 30% in the second half of 2009.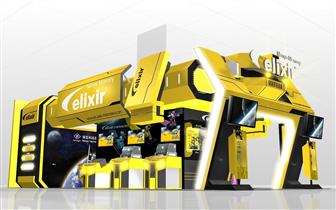 Nanya's booth highlighting Elixir DDR3 at Computex 2009
Photo: Company