Computex 2009: Accordance extends ARAID high-quality RAID 1 to mid-range RAID 5
Press release; Rodney Chan, DIGITIMES
Tuesday 2 June 2009
Accordance Systems and its subsidiary Abeauty Technology are exhibiting together at Computex Taipei 2009, with the companies focusing on RAID 1 and RAID 5 solutions at the show.
Based on 12 years experience developing IDE, SATA, and SCSI disk array products, Accordance and AbeautyTech are now focusing on developing and manufacturing RAID 5 products to fulfill the need of global customers who need to manage dramatically growing disk capacity. At Computex, the companies will highlight two RAID 5 models (RT5 & RR5). The two mid-range devices offer high efficiency and quality, and employ SATA II HDDs (up to five 2TB drives) as well as a choice of SCSI 320, eSATA, USB2.0 and/or a 1394a host interfaces. The system can also support web, mail, or multimedia applications.
Accordance and AbeautyTech welcomes visitors to visit their booth at the Nangang Exhibition Hall 1st floor, J331
Accordance was founded in 1998 to concentrate on designing and manufacturing high-quality storage- related products to worldwide computer users. Since then, Accordance has announced and delivered the first direct IDE-IDE RAID 1 ARAID99 200 disk array subsystem.
AbeautyTech was spun off from Accordance in 2005. While Accordance specializes in providing disk array products to global customers, AbeautyTech is in charge of the design and production of disk array and related products.
Since its inception, AbeautyTech has been dedicated to designing and providing high quality RAID 1 storage-related products. In 2007, AbeautyTech was the first company to develop and deliver native SATA II RAID 1 disk array products with LCD, human interface and SNMP network management features.
The company's ARAID products have been sold to Taiwan and global customers for more than 10 years, with its main markets being Japan, the US and Europe.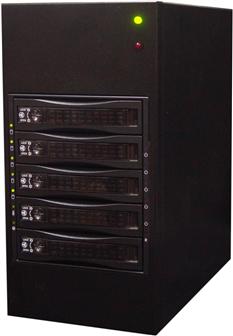 Accordance RT5 RAID 5 system
Photo: Company