SiS announces SiS168 motion-fluent co-processor for LCD TV
Press release, April 16; Joseph Tsai, DIGITIMES
Friday 17 April 2009
Silicon Integrated Systems (SiS) has unveiled a new 120Hz/100Hz motion-fluent co-processor – SiS168 – to decrease motion-blur artifacts in LCD TVs, and which can also reduce film-judder usually seen in low frame rate movies.
The SiS168 adopts a close-loop Multi-state Motion Vector Search & Analysis (MMVSA) algorithm to increase the reliability and accuracy of the regenerated motion vectors. The closed loop MMVSA algorithm includes moving objects grouping, moving object boundary detection, static text detection, motion vector distribution analysis, and motion vector regeneration. Low frame rate films with inverse 3:2/2:2 pull-down are also detected during the motion vector distribution-analysis. Based on the motion vectors, new frames are thus elaborated and inserted between two originally consecutive frames, with further polish such as de-blocking, halo effect reducing, and low frame-rate film-processing.
SiS168 can pair with a series of SiS HDTV SoC processors, such as SiS328, SiS329, the upcoming new generation SiS HDTV products or any other third party TV chips to upgrade motion-video picture quality. It accepts either single-link LVDS (WXGA) or dual-link LVDS (Full-HD) input signals and outputs to either dual-link LVDS (WXGA) or quad-link LVDS (Full-HD) 100Hz/120Hz TFT LCD panels.
SiS 168 employs 0.11-micron 3.3V/1.2V silicon process, and is housed in a 484 LFBGA package. Engineering samples are available now for design and validation and mass production is expected to start in May.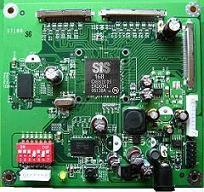 Application with SiS168 motion-fluent co-processor
Photo: Company