OCZ unveils water-cooled DDR2 and DDR3 modules
Press release, December 17; Jessie Shen, DIGITIMES
Wednesday 17 December 2008
OCZ Technology has unveiled its Flex EX memory series, the high-density modules that operate at DDR2 and DDR3 for PC gaming.
"Memory is the primary storage device of any modern computer system and defines how fast the CPU can access data," said Michael Schuette, VP of Technology Development at OCZ. The new OCZ Flex Ex series provides the combination of density, frequency and access latencies for any system architecture by delivering speed at 4GB density with cooling options, according to Schuette.
The new Flex EX modules will be available in 4GB (2x2048MB) dual channel kits.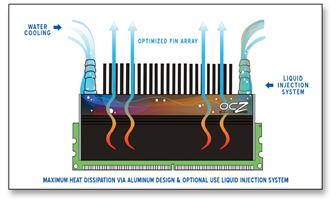 OCZ EVP (Extended Voltage Protection) is a feature that allows a VDIMM of 2.25V
Photo: Company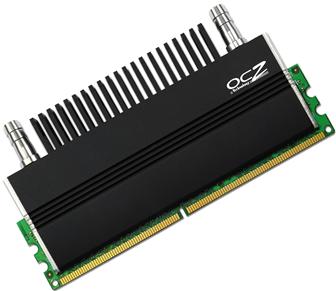 OCZ DDR2 PC2-9600 Flex EX 4GB Series
Photo: Company