Qisda to phase out LCD TV OEM business
Siu Han, Taipei; Yvonne Yu, DIGITIMES
With Qisda and AU Optronics (AUO) announcing a joint venture for LCD TV assembly in September, Qisda has now stated that all aspects of its LCD TV OEM business will be transferred to the new venture and Qisda will exit from the LCD TV business.
Hui also explained that LCD TV OEMs need to maintain higher panel inventory and having an expertise in LCD panel production is a key advantage in such a business. Therefore, the company will allow AUO to control the direction of development for the two company's combined LCD TV production. Hui added that Qisda currently lacks the economies of scale to further devote resources to the LCD TV business, so Hui believes that it is best for Qisda to phase out its LCD TV OEM business. The company estimates that LCD TV OEM services will not be a part of its operations in 2010, added Hui.
Qisda's LCD TV OEM business only accounted for 6% of its third quarter sales and only 4-5% of the company's sales so far this year. Hui indicated that the company's LCD TV OEM shipment goal this year may only reach 600,000-700,000 units, down from a previous shipment estimation of one million units.
Hui also noted that Qisda has started to transition LCD TV OEM production lines to producing and new products this quarter and the company estimates that the new products will contribute more than 10% to the company's annual revenues in 2009. The new products include professional display, electronic billboard, all-in-one PC, 3.75G USB modem, portable digital TV, and remote medical care applications.
Qisda's third quarter consolidated revenues reached NT$27 billion (US$807 million), down 11.3% from NT$30.5 billion in the second quarter. The company's gross margin increased from 3.4% in the second quarter to 3.8% in the third quarter, but net losses still totaled NT$1.9 billion, according to data from the Taiwan Stock Exchange (TSE).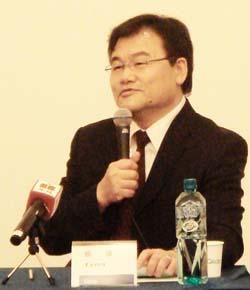 Hui Hsiung, president of Qisda.
Photo by Siu Han