Super Talent to offer 128GB SSD for under US$300
Press release, September 30; Michael McManus, DIGITIMES
Tuesday 30 September 2008
Super Talent Technology, a manufacturer of flash storage solutions and DRAM memory modules, has launched a pair of new affordable SATA-II SSDs. Super Talent's MasterDrive SSDs are offered in 64GB and 128GB capacities, witht he 64GB model expected to retail for about US$179, while the 128GB unit is expected to retail for under US$300.
Both models will begin shipping this week and are backed with a one year warranty.
The MasterDrive LX is built with NAND flash and uses a SATA-II 3Gbps interface that makes it 100% interchangeable with hard disk drives. These SSDs support sequential read speeds of up to 100 MB/sec, and sequential write speeds of up to 40 MB/sec. Integrated ECC, wear leveling and bad bit management functions also improve the reliability and lifespan of these SSDs.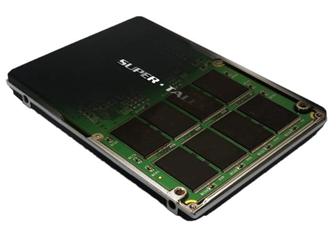 Super Talent's MasterDrive SSDs are offered in 64GB and 128GB capacities
Photo: Company