Elpida ready to launch 16GB FB-DIMM
Press release, August 5; Esther Lam, DIGITIMES
Wednesday 6 August 2008
Elpida Memory announced today that it is ready to launch a 16GB Fully Buffered DIMM (FB-DIMM) that is composed by 2Gb of DDR2 components. Sample shipments of the new B-DIMM will begin later this month. Mass production is expected to get underway in the fourth quarter of 2008.
In addition to achieving greater memory density and multiple-rank function to significantly upgrade system performance, Elpida said it has applied 2Gb DR2 low-power DRAMs and Integrated Device Technology (IDT)'s low-power advanced memory buffer (AMB) device to achieve a level of power consumption comparable to existing 8GB products and to contribute to lower system power requirements.
"The inclusion of the IDT low power AMB device helps Elpida achieve twice the capacity without impacting power consumption, which is critically important for today's power-hungry computing platforms," said Sean Fan, vice president and general manager of memory interface division at IDT.
Elpida intends to complement its presence in existing markets by using its new large-capacity FB-DIMM as a vehicle to enter new markets, such as FB-DIMM for ultra high-end servers and work stations, the company stated.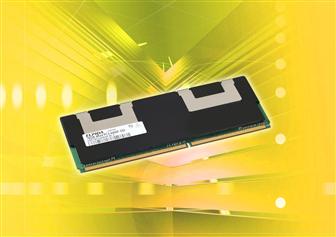 Elpida prepares to volume produce 16GB FB-DIMM in the fourth quarter of 2008
Photo: Company