Transcend introduces T.photo 710C photo frame
Press release, June 13; Eric Mah, DIGITIMES
Friday 13 June 2008
Transcend Information has introduced its T.photo 710C, an all new transparent version of its first digital photo frame.
As opposed to the original T.photo 710's black and gold color scheme, the new T.photo 710C's transparent frame offers a simple and pure look, making it perfect for setting on an office desk or mounting on a living room wall, according to Transcend. The T.photo includes a convenient picture-clock and calendar, alarm and built-in digital music player player with speakers.
The picture frame has 1GB of internal memory and is fully USB 2.0 plug and play compliant and requires no drivers when connecting to a computer, according to the company.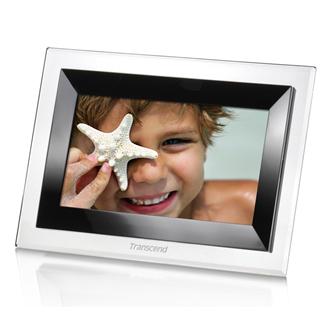 Transcend T.photo 710C photo frame
Photo: Company