Top card makers launch Radeon HD 3800 series graphics cards
Press release, November 19; Joseph Tsai, DIGITIMES
Gigabyte United, Micro-Star International (MSI) and Asustek Computer have announced new product lines based on AMD's latest ATI Radeon HD 3800 series GPUs.
Gigabyte United's GV-RX38 series includes the GV-RX387512H-B featuring 512MB of 256-bit GDDR4 memory and the GV-RX385256H-B with 256MB of GDDR3 265-bit memory. With PCI Express 2.0 compatibility, easy AMD CrossFireX scalability, built-in HDMI and 5.1 surround audio, the GV-RX38 series allows users to completely immerse themselves in a total HD gaming experience, said Gigabyte.
MSI unveiled RX3870 and RX3850 series graphics cards with an all-copper pipe cooling solution and fanless design to provide a silent and quiet working environment.
MSI offers an exclusive image quality enhancement technology, Vivid, allowing adjustment of screen display settings, according to the company.
Asustek introduced the EAH3800 TOP series the EAH3850 TOP/G/HTDI/256M and the EAH3870 TOP/G/HTDI/512M. The cards are overclocked for an 8% performance boost over reference design boards, Asustek noted.
The EAH3800 series also comes with the exclusive Asustek GamerOSD that is able to deliver GPU overclocking from onscreen displays during game play.
Asustek Radeon HD 3800 series graphics cards specifications

Model

EAH3870 TOP/G/HTDI/512M

EAH3850 TOP/G/HTDI/256M

EAH3870/G/HTDI/512M

EAH3850/G/HTDI/512M

EAH3850/G/HTDI/256M

Graphics Engine

Radeon HD 3870

Radeon HD 3850

Radeon HD 3870

Radeon HD 3850

Radeon HD 3850

Video Memory

512MB DDR4

256MB DDR3

512MB DDR4

512MB DDR3

256MB DDR3

Engine Clock

850MHz

730MHz

775MHz

668MHz

668MHz

Memory Clock

2.28GHz (1.14GHz DDR4)

1.9GHz (950MHz DDR3)

2.25GHz (1.125GHz DDR4)

1.65GHz (828MHz DDR3)

1.65GHz (828MHz DDR3)

Memory Interface

256-bit

256-bit

256-bit

256-bit

256-bit

DVI Max. Resolution

2560×1600

2560×1600

2560×1600

2560×1600

2560×1600

Bus Standard

PCI Express 2.0

PCI Express 2.0

PCI Express 2.0

PCI Express 2.0

PCI Express 2.0

DVI Output

DVI-I

DVI-I

DVI-I

DVI-I

DVI-I

HDCP compliant

Yes

Yes

Yes

Yes

Yes

D-Sub Output

Yes, via DVI to HDMI adaptor

Yes, via DVI to HDMI adaptor

Yes, via DVI to HDMI adaptor

Yes, via DVI to HDMI adaptor

Yes, via DVI to HDMI adaptor

HDTV Output

YES, via DVI to D-Sub adaptor

YES, via DVI to D-Sub adaptor

YES, via DVI to D-Sub adaptor

YES, via DVI to D-Sub adaptor

YES, via DVI to D-Sub adaptor

TV Output

YES, via HDTV Out cable

YES, via HDTV Out cable

YES, via HDTV Out cable

YES, via HDTV Out cable

YES, via HDTV Out cable

Adaptor/Cable Bundled

YES, via S-Video to Composite

YES, via S-Video to Composite

YES, via S-Video to Composite

YES, via S-Video to Composite

YES, via S-Video to Composite

DVI-to-D-Sub adapter
HDTV-out cable

DVI-to-D-Sub adapter
HDTV-out cable

DVI-to-D-Sub adapter
HDTV-out cable

DVI-to-D-Sub adapter
HDTV-out cable

DVI-to-D-Sub adapter
HDTV-out cable
Source: Company, compiled by Digitimes, November 2007
Gigabyte Radeon HD 3800 series graphics cards specifications

Model

GV-RX385256H-B

GV-RX387512H-B

Chipset

ATI Radeon HD 3850

ATI Radeon HD 3870

Memory

256MB

512MB

Memory Bus

256-bit

256-bit

Memory Type

GDDR3

GDDR4

Card dimension

ATX

ATX

Bus Type

PCIe 2.0

PCIe 2.0

D-SUB

Yes

Yes

TV-OUT

Yes

Yes

DVI Port

Y (DVI-I)

Y (DVI-I)

VIVO

No

No

Multi View

Yes

Yes
Source: Company compiled by Digitimes, November 2007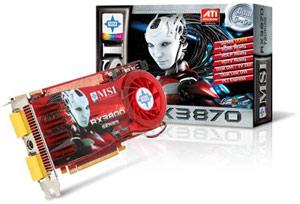 MSI ATI RX 3870 graphics card
Photo: Company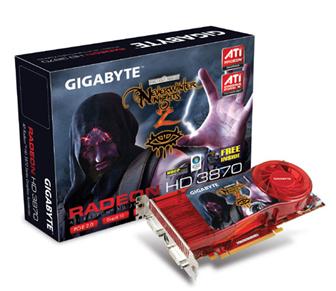 Gigabyte GV-RX387512H-B graphics card
Photo: Company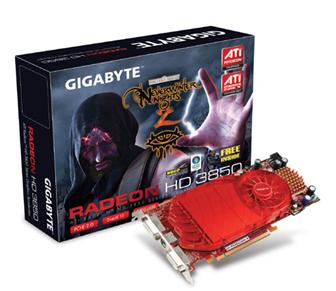 Gigabyte GV-RX385256H-B graphics card
Photo: Company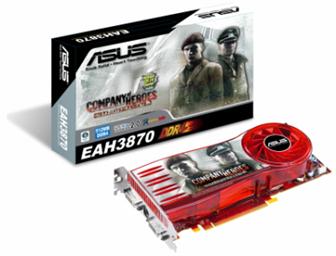 Asustek EAH3870 graphics card
Photo: Company