Thermaltake introduces V1R RAM cooler
Press release, November 2; Eric Mah, DIGITIMES
Thermaltake Technologies recently introduced its V1R RAM cooler.
The V1R RAM cooler features V-shaped copper fins combined with a copper heatpipe to achieve maximum heat transfer from the memory module, according to the company. The cooler also has a patented heatpipe thermal module and an aluminum extruded heat spreader that increases the heat dissipation surface area. Additionally, the adjustable heatpipe thermal module helps avoid structural interference for maximized mechanical compatibility, highlighted the company.
The V1R memory cooler can be used on both DDR and DDR2 RAM, stated Thermaltake, noting that two sets of thermal pads of different thicknesses are included for the application on both single-sided and double-sided memory modules.
Thermaltake V1 RAM cooler specifications

Item

Details

Product number

CL-R0028

Compatibility

DDR, DDR2 RAM

Dimensions

155.8×20.3×114.6mm

Heat spreader

Aluminum

Thermal module

Heatpipe + copper fins

Weight

155g
Source: Company, compiled by Digitimes, November 2007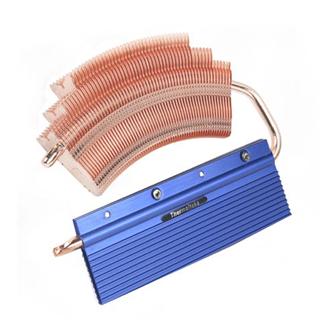 Thermaltake V1R RAM cooler
Photo: Company