Albatron announces Nvidia GeForce 8800GT graphics card
Press release, October 30; Eric Mah, DIGITIMES
Albatron has announced the 8800GT-512, a new performance graphics card featuring the Nvidia GeForce 8800GT GPU.
The latest GeForce 8 series includes support for PureVideo HD and PCI Express (PCIe) 2.0, which has twice the data throughput (5GT/s) of its predecessor PCIe technology, according to the company.
With a core clock of 600MHz, the GPU uses 65nm process technology, which allows for lower power consumption leading to cooler temperatures and the use of quieter and thinner fans for a thin card geometry, according to Albatron.
The Albatron 8800GT-512 has 512MB of 1800MHz GDDR3 memory and includes two DVI connectors and an HDTV-out connector. The card supports Dual-Link HDCP and is SLI ready. The board itself is 9-inch in length and has a PCIe 2.0 x16 connector.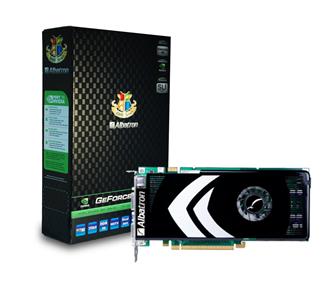 Albatron 8800GT-512 graphics card
Photo: Company