Cooler Master introduces high-performance chassis
Press release, September 4; Joseph Tsai, DIGITIMES
Tuesday 4 September 2007
Cooler Master has announced its Cosmos 1000 high performance PC chassis. The flagship chassis combines a sleek looking exterior and a clean interior design for optimal thermal performance and efficient noise reduction, according to the company.
The Cosmos design team used the principles of Hi-Fi equipment to solve noise issues in high-end systems, stated Cooler Master. It transformed the audio equipment stand into a progressive aluminum tube stand, thus eliminating resonance by providing three-to-five times the bending strength, explained the company.
The Cosmos enhances conventional cooling by utilizing the concepts of stack and negative pressure effects. In addition, the chassis also features an air filtered dual-bottom air intake ventilation design, thermal hard disk drive (HDD) pads, excess room for additional 120mm fans and built-in slots for liquid cooling solutions, noted the company.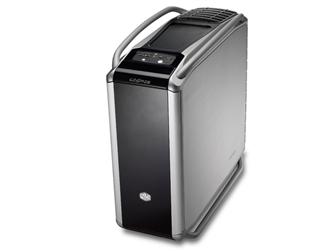 Cooler Master Cosmos 1000 high performance PC chassis
Photo: Company