LG.Philips LCD develops TFT LCD panel for next-generation mobile phones
Press release, September 15; Carrie Yu, DIGITIMES
Friday 15 September 2006
LG.Philips LCD announced on September 14 that it has developed what it claims is the industry's first TFT LCD panel for next-generation mobile phones.
The 2-inch LCD panel has a faster response time than existing mobile phone displays, allowing it to play back sharp high-quality video from next-generation digital broadcasts and mobile communication technology, including DVB-H and WiBro, according to LG.Philips, adding that the display's 16ms response time is 36% faster than the fastest TFT LCD panels currently used for mobile phones.
Most TFT-LCD panels used in phones today have response times of 25ms, causing afterimages and ghosting, which reduce the picture quality for high-definition video. However, the high speed response LCD panel developed by LG.Philips LCD shows videos clearly and without any afterimages, said the company.
To create high-speed displays that meet the low power consumption requirements of mobile phones, LG.Philips LCD has developed different technology than is used in its large-size panels. This new product boasts a response time similar to LCD panels for notebooks and is also easy to mass produce, the panel maker said.
LG.Philips LCD's vice president and head of the Small and Medium Displays Business Unit, Hyun He Ha, said, "This product breaks the 20ms response time barrier, which was thought to be the limit for mobile phone TFT LCD panels. As the first such TFT LCD product with a response time in the teens, we will be able to fill demand in the mobile display market for displays that can display high-resolution video and consume little power. We plan to start mass producing these panels this year."
LG.Philips LCD launched its Small and Medium Displays Business Unit in January 2006 to strengthen its technology, product development skills and sales and marketing capabilities. This has allowed the company to further penetrate the attractive small- to medium-size panel market. The company has now set its sights on developing a product with both a fast response time and a wide-viewing angle based on in-plane switching (IPS) technology, according to LG.Philips.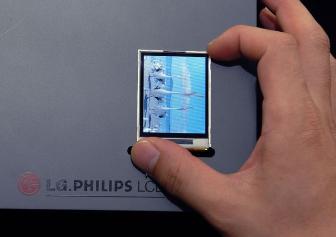 LG.Philips' LCD new handset-use panel
Photo: Company