HTC unveils new smart devices for 4Q 2006
Daniel Shen and press release, Taipei; Steve Shen, DIGITIMES
High Tech Computer (HTC) on September 7 unveiled four new smart devices for worldwide sale starting in the fourth quarter of this year.
The four smart devices include the HTC P3300 (codenamed Artemis), the company's first GPS-enabled PDA phone which features the latest TomTom navigation software, Navigator 6, the company said in a press release.
The other three are the super slim-form factor HTC S620 (codenamed Excalibur), the HSDPA (high speed downlink packet access)-ready HTC P3600 (codenamed Trinity) and the HTC S310 (codenamed Oxygen) for the entry- to mid-range segments.
The quad-band HTC S620, which features a QWERY keyboard, weighs only 130g with a battery and measures just 12.8mm thick, will compete with the Moto Q-series handsets from Motorola and the i320N from Samsung Electronics, according to market sources.
All devices will be available under the HTC brand as well as in customized-version for partners, the company said, noting that T-Mobile will launch the HTC P3300 under T-Mobile's MDA Compact III model name.
HTC also has recently added two new distributors, Portix and Expansys, for promoting its products in Hong Kong, and the company said it also plans to enhance its presence in Germany, Scandinavia, Russia and Spain by the end of this year.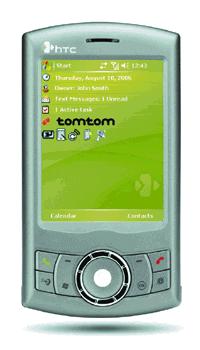 HTC's first GPS-enabled PDA phone, the HTC P3300.
Photo: Company