Albatron launches Nvidia GeForce 6800 GS AGP graphics card
Press release; Eric Mah, DIGITIMES
Albatron Technology recently announced the launch of its AGP6800GS AGP graphics card, featuring the Nvidia GeForce 6800 GS graphics processing unit (GPU), for AGP-based motherboards.
The AGP6800GS features NVIDIA's 3rd generation CineFX graphics engine and IntellisampleTM 3.0 and Ultrashadow II technologies for realistic image rendering, according to the company.
The engine core is rated at 350 MHz with 12 pipelines, said the graphics card maker, adding that the card has a 256-bit memory bus and 256 MB of DDR3 memory that can be clocked up to 1 GHz. The AGP6800GS contains two independent 400 MHz RAMDACs with resolutions up to 2048×1536, going hand-in-hand with the card's nView dual display technology, noted Albatron, adding that the AGP6800GS will support TV-OUT, DVI and D-sub interfaces.
The graphics card will be available worldwide by the end of December, according to the company. A suggested retail price is not yet available.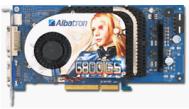 Albatron's AGP6800GS AGP graphics card
Source: Company