Buffalo launches new TeraStation Terabyte Home Server
Press release; Eric Mah, DIGITIMES
Buffalo and Mediabolic recently announced the availability their Buffalo TeraStation Terabyte Home Server, a Digital Living Network Alliance (DLNA)-compatible network-attached storage (NAS) device. The new TeraStation Home Server includes media server software from Mediabolic that provides centralized media management and distribution to multiple PCs and connected entertainment products on the home network.
The one-terabyte TeraStation allows consumers to deploy a powerful yet easy-to-use and cost-effective media and data server on their home or office networks, claims Buffalo. Powered by Mediabolic's NAS Media Server software, the TeraStation makes music, photo, and video files available over data networks so that consumers can browse and, using a compatible client such as Buffalo's LinkTheater Mini, play back all of their personal content anywhere in the home, said the company.
In addition to being very easy to set up and manage, the Buffalo TeraStation offers advanced fault-tolerant, RAID-based file sharing solutions, and Jumbo Frame technology for higher transfer speeds than on standard networks, said the data storage maker. It includes gigabit Ethernet networking, powerful file security and back-up utilities, and four USB 2.0 ports to accommodate additional external hard drives or shared printers, said Buffalo, adding that the TeraStation can run in four different operating modes and features a built-in USB print server and an FTP server function that allows users to access and transfer files using any computer on the Internet.
The Buffalo TeraStation Terabyte Home Server with media server capabilities (model number HS-D1.0TGL/R5) will be available in mid-December in Japan with a suggested retail price of JPY108,400 (US$905), according to the company.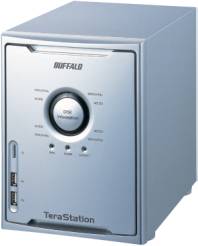 Buffalo's new TeraServer Terabyte Home Server
Photo: Company, December 2005