Taiwan notebook industry overview
Michael McManus, DigiTimes.com. With reporting by David Tzeng, Joanne Chien and Huang Kung Tien
Tuesday 11 January 2005
The overview you are trying to open requires news subscription. Please
sign in
if you wish to continue.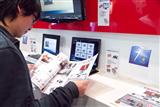 In December 2004, it was
reported
that Compal Electronics had lost out on a follow-up notebook order from Hewlett-Packard (HP), when Quanta Computer undercut Compal's price. Quanta was willing to accept the lower ASP (average selling price) to secure shipments that should reach 2.5-3.0 million notebooks and help the company achieve its goal of shipping 14-15 million notebooks in 2005. As for Compal, its goal of shipping 9-10 million notebooks in 2005 is now looking much harder to achieve.